From Los Angeles to Fallon, NV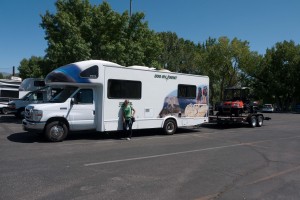 Its all new to me. In all my years of going to Burning Man, this being my 12th year on playa, I have never gone in an RV (let alone one pulling a trailer). We were unsure how the RV was going to handle pulling the trailer and cart, but she did great. Oh, I say she because we named her "Betsy."
I'd like to send a special thank you to Evan Crawford and Power Trip Rentals for their use of the cart and trailer. I've used them for many years for infrastructure rentals for the LA Burning Man Decompression Arts and Music Celebration. An event that happens after Burning Man to celebrate its art and culture back at home.  They are one of the best companies to work with.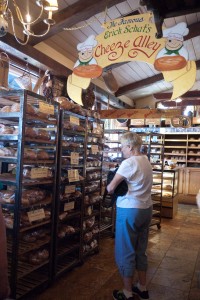 We drove a route known as the "spooky desert route." It takes us up the 5 fwy to the 14 and then the 395 to Bishop where I introduced Mom to the wonders of Erick Schat's Bakery. YUM!!!! Fresh baked bread and delicious gelato. We got a few loafs for Burning Man (rye and pumpernickel), and their wonderful Pullaway bread with cinnamon, walnuts and lots of gooey sugar. Oh and we had lunch too.
After Bishop, we turned right and heading up the 6 fwy to the 360, to the 95 and connected to the 50 in Fallon, NV.   (I will post a map of our route later)
We spent the night at the Fallon RV Park which is where I am writing this now. My forearms are quite sore from holding the steering wheel against lots of wind gusts as we drove through the foothills and  desert flat lands. Now on to our final shopping and then BURNING MAN!!!
From Mom's Perspective: A word of explanation about why we are pulling a trailer adorned with a Kubota gator. Because of my on going back and foot problems Im unable to do a lot of walking or riding a bicycle which are the primary modes of transportation at Burning Man. So with special permission the cart will provide my link to the beautiful art installations and aid in my participation at the event. I also look forward to hopping on an art car a time or two.
The 10 hours of travel from LA to Fallon gave me new respect of Athena's driving skills. It was not an easy day. And the tricky mountain roads, cross winds, and distances left we awestruck at her driving abilities. I did not drive the rig…yet…maybe. We are 40 feet long.
The few charming little towns we passed through gave us a visual break from the long drive through desolate areas. However the geological formations were awesome. I took a lot of pictures of rocks.
Final preparations and on to the playa. ~)'(~